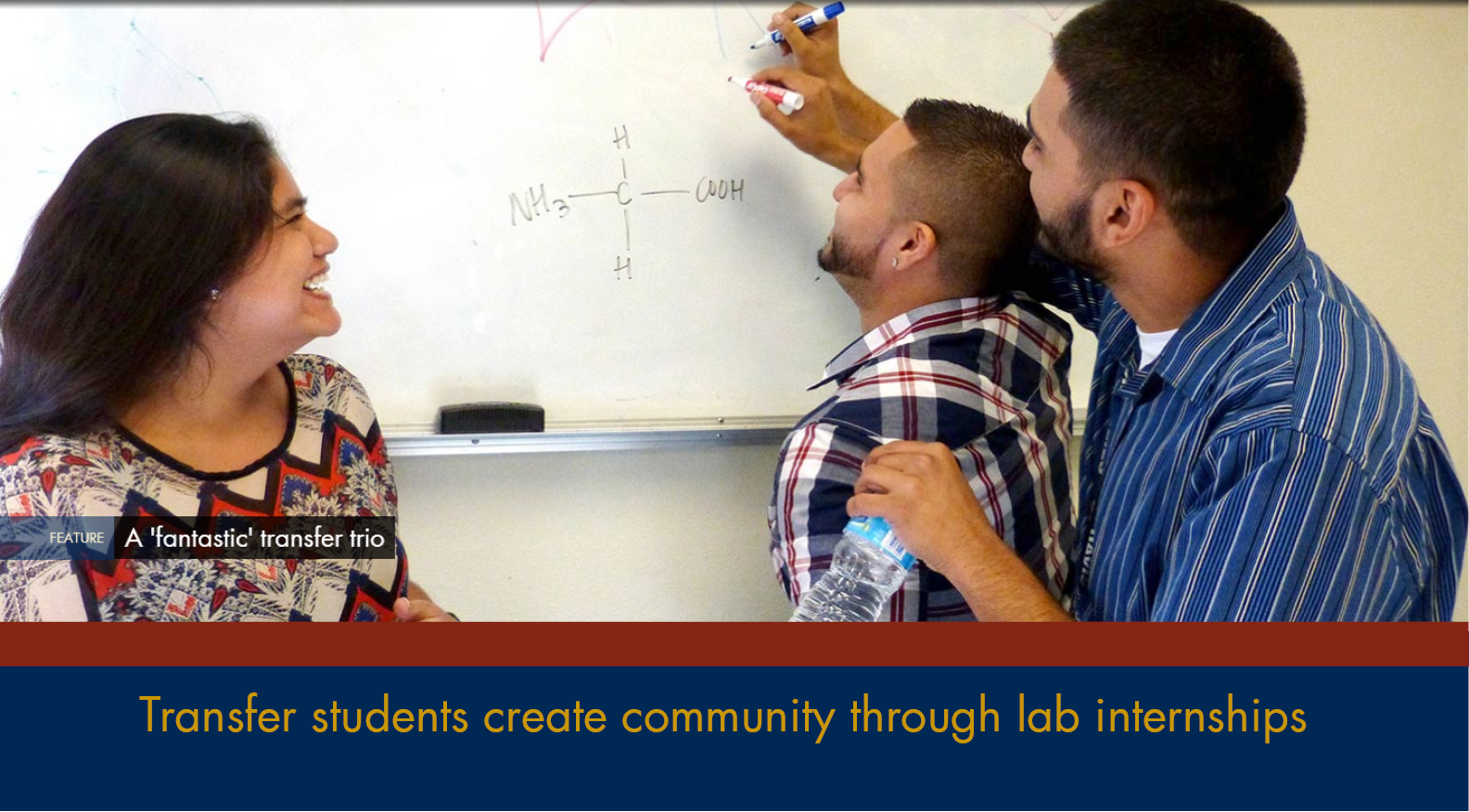 by Sharon Knox
They call themselves "The Fantastic Three," and go by secret nicknames while they do neurological research in a secure lab off the main campus, late into the night, guided by their mentor.
They sound like comic book heroes, but in real life, Angela Avitua, Rafael Ordaz and Haroon Shafique are transfer students working in the UC Davis Center for Neuroscience under the guidance of Gene Gurkoff, a professional researcher in the Department of Neurological Surgery. While they may not have superpowers, these three students demonstrate an inspiring ability to overcome the challenges often faced by transfer students in establishing a network of friends and colleagues.
Their secret weapons: support programs, strong mentorship and the community they have created for themselves. 
Asked whether they would have predicted four years ago that they would be participating in brain research, The Fantastic Three said, "No way." Ordaz and Shafique are the first in their families to attend college, and Avitua will be the first to pursue graduate studies. 
Avitua watched TV science programs as a child, and was drawn in further by AP biology in high school. She began her studies at American River College in Sacramento, but always wanted to come to UC Davis. Ordaz, who also attended American River, arrived at UC Davis as a premed student, but his experience at the Center for Neuroscience has encouraged him to pursue research science. Shafique wants to pursue public health. 
Avitua, Ordaz and Shafique met through the Center for Biophotonics Science and Technology's CCWinter, a two-week campus program offering lab skills training to community college students during winter break. They met again as lab interns in the center's 2012 summer program -- this time as admitted UC Davis transfer students majoring in neurobiology, physiology & behavior. 
The summer program began with a one-week workshop, after which Director Ana Corbacho matched Avitua, Ordaz and Shafique with Gurkoff, and the three became interns at the Neurotrauma Research Lab.
All three students, while attending community college, participated in MESA (Mathematics Engineering Science Achievement), giving them access to CCWinter at UC Davis. For Shafique, the program was transformative: It was the first time he had ever experienced a team-building exercise, something that helped this relatively shy student find that he had his own important role to play in group work.
Team building is a key component of Corbacho's internship programs. "It can help people to understand the value each person brings to a group," she said. "Most people want to think of themselves as leaders, but a team can't function if everyone wants to play the same role. There's a great value in the quiet, thoughtful personality; in the observers, the builders, the doers." 
Through long-term internships, Avitua, Ordaz and Shafique have progressed from relatively simple tasks such as preparing brain sections for microscope examination, to actively participating in projects that seek solutions for neurological problems such as epilepsy and traumatic brain injury.
The three also have become practiced in making presentations to the public, for example, at this year's UC Davis Undergraduate Research, Scholarship and Creative Activities Conference. This summer, Avitua will present research at the National Neurotrauma Symposium, a professional conference in which undergraduates do not typically participate, and participate in the Amgen Scholars Program at UCLA.
Today, all three are looking toward careers in research, medicine and public health.
Adapting to UC Davis as a transfer student can be challenging and lonely, but Avitua, Ordaz and Shafique have had the benefit of a community all their own, in their laboratory. It's a place where — when they're not working — they can relax, eat, study and hang out together. Although they're not currently working on the same projects, they're quick to call on one another for help, as well as to exchange ideas and just laugh together in the lab's lounge. 
Another key to creating community is their mentor, Gene Gurkoff, who is researching treatments to restore memory in cases of traumatic brain injury.
He has a strong interest in mentorship, has mentored numerous students over the years, and has a remarkable ability to make complex concepts accessible. He has a balanced touch, providing guidance while inviting students to answer their own questions as much as possible.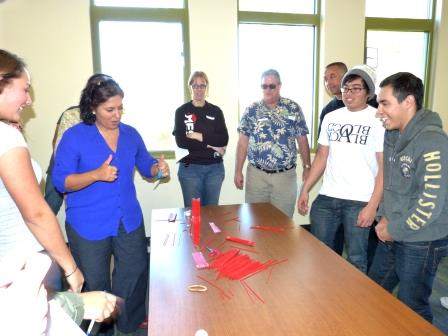 A good mentor is one thing, good support programs are another — and UC Davis has them for those transfer students who arrive on campus with little or no exposure to practical research.
"Without preparation, students often don't know what to expect," Corbacho said. "They arrive at a lab expecting active mentorship and exciting research from Day 1. Students sometimes think they're doing something wrong if they're not given active, complex tasks right away. The reality is, that in a lab internship, you may spend a lot of time just watching or doing very basic work at first."
So, working with the Center for Biophotonics Science and Technology, and the College of Biological Sciences, she developed CCWinter, as well as the the summer internship program and a prelab research boot camp for students from underrepresented populations, and for first-generation students for students ready to launch their UC Davis research careers. Today, these programs are part of Undergraduate Education and its iAMSTEM Hub, where Corbacho serves as the associate director of higher education.
She has a new program in the works: ACCESS-R for 144 incoming STEM transfer students starting this summer and continuing through the academic year. They'll have guidance from eight to 10 graduate students and post-docs interested in developing their teaching portfolios, and transfer students like Avitua, Ordaz and Shafique who have already successfully transitioned to UC Davis.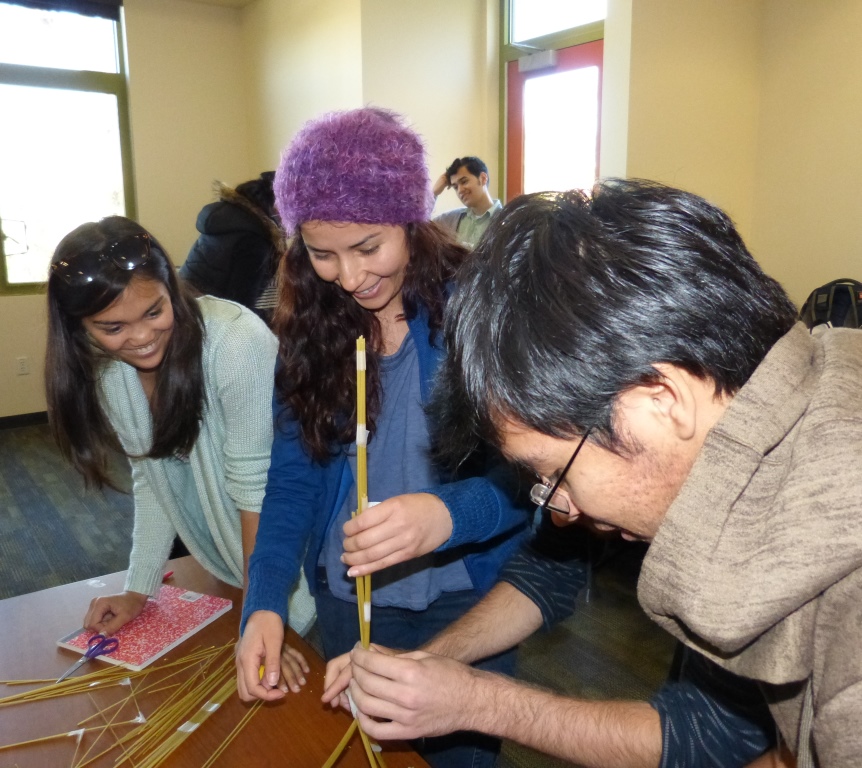 Their service as peer mentors points to a final quality that defines The Fantastic Three: their commitment to making a difference.
Avitua described her motivation to do "translational" research — that is, researching and applying a solution to a specific problem such as a particular kind of brain injury. Presenting her research on epilepsy at the Undergraduate Research Conference was a very powerful experience, she said. "It was the first time someone came up to me and said, 'My brother has epilepsy. I'm so happy you're doing this research.' It made me realize how much of a difference we can make, how important our research is."
contact:  scknox@ucdavis.edu