The Times are Changing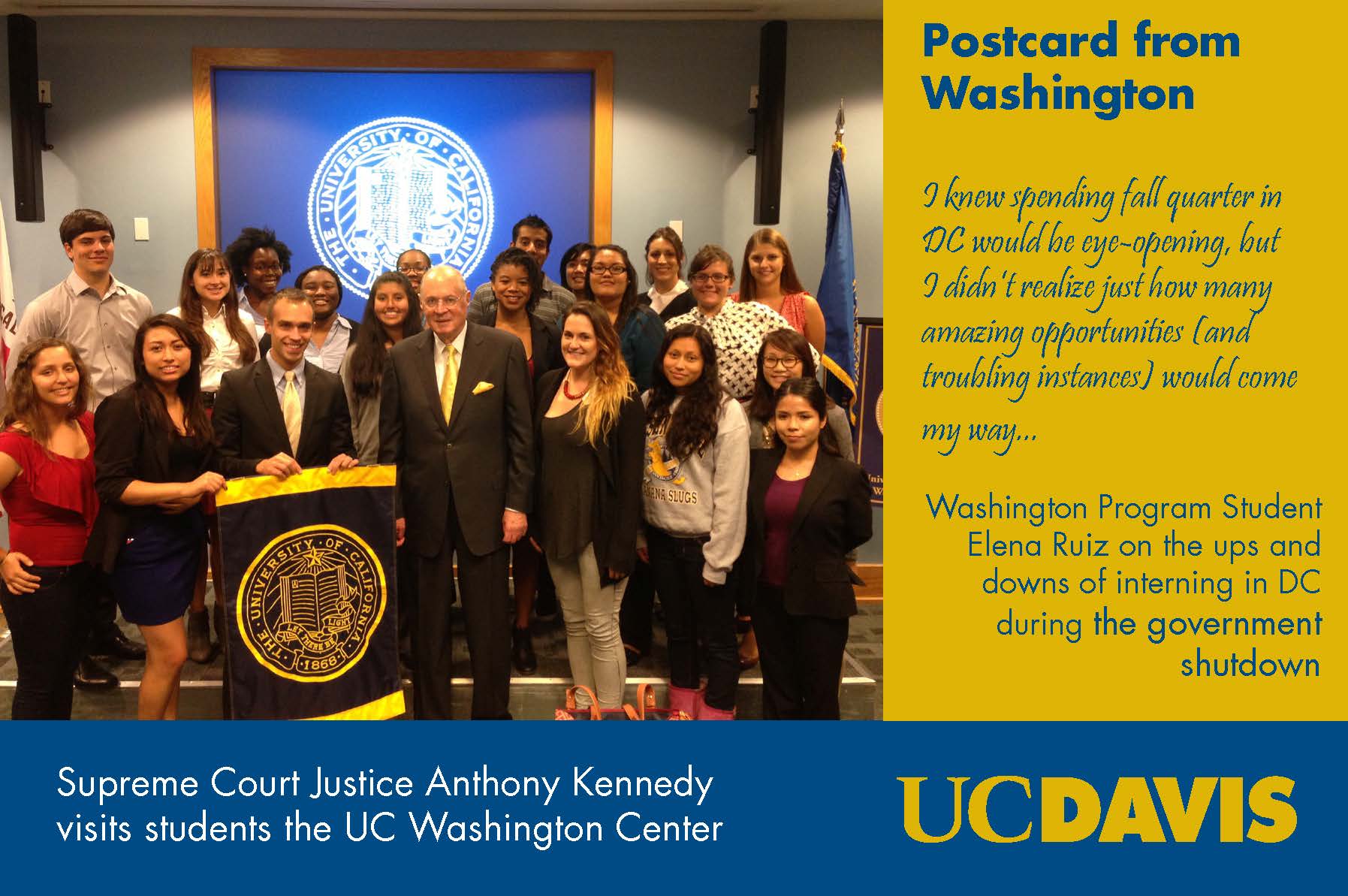 The author, Elena Ruiz, with Supreme Court Justice Kennedy during his session with UCDC law students.  Ruiz is behind Justice Kennedy, wearing a grey shirt.
I knew spending fall quarter in DC would be eye-opening, but I didn't realize just how many amazing opportunities (and troubling instances) would come my way.
For starters, one week before I boarded my plane, we had a navy yard shooting. One week after I arrived, the government shut down. Two days after the government shutdown, a mentally ill woman was killed by security after ramming into a White House gate and firing shots near the Capital Building.
All of this contributed to a tense feeling in the city. But where there was fear, I also felt hope. It came on the first day of the shutdown. Brave WWII veterans stormed into their war memorial, defying the government shutdown. Not everyone takes the government foolishness lying down. I for one, felt robbed of my internship experience with the Department of Justice. I interned there for three days before being furloughed. Between time spent at the few museums still open, applying to jobs, and visiting Monticello and Philadelphia, I took time to reflect on where our country has gone.
To me, it seems like yesterday that I was a 90s kid enjoying simple times. What's more, by the late 90s, the economy was booming, and we were not at war. It's astounding how drastically things change within a decade. Congressional polarization is at an all-time historic high. We are at war. We have an economic crisis that economists say will prevent an entire generation from achieving upward class mobility. People miss "the good old days."
And yet, I would never want to go back in time. We are questioning the status quo in a way that was virtually nonexistent in better times. On October 7th, I had the privilege of meeting Supreme Court Justice Kennedy, who visited the UCDC Center. He declared that he was surprised at the speed with which gay marriage would emerge as a cutting-edge issue. People are also speaking of the massive economic inequities present in our society. To me, the curiosity to ask questions is a good thing. As Mr. Kennedy declared, "The nature of injustice is that you can't see it in your own times." As a teenager in the aftermath of the Brown v. Board ruling, Mr. Kennedy exclaimed, "Injustice is over! No more discrimination!" but then assumed his sister would become a secretary or nurse. Upon my question of what injustices are currently invisible, he replied, "If I knew that, I would have been in private practice. But I will say the criminal justice system isn't working."
Throughout all the hubbub, Mr. Kennedy has remained humorous and reflective. His grandchildren think he's "a cultural dinosaur." Last year, he overheard someone at a store ask what Lady Gaga was talking about. His response? "That's not a nice thing to call that lady." Most notably, he called on Congress and the White House to resolve the budget conflict. "The rest of the world is watching. Half of the world is deciding whether they want democracy or not. And they are looking at you to see what that verdict ought to be."
He has never been more correct.
-Elena Ruiz Washington Program - Fall 2013