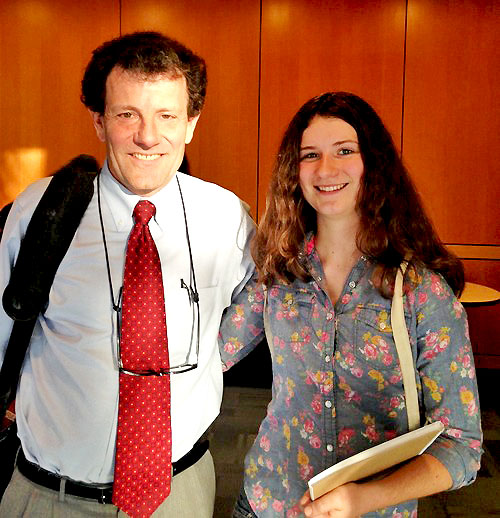 University Honors Program freshman Annie Ashmore established the UC Davis Invisible Children Club the summer before her freshman year at UC Davis.  The club, which aims to raise money and awareness about Invisible Children's cause, has had several fundraisers this year.   Invisible Children's mission is to end, and help people recover from, the extreme damage caused by the Lord's Resistance Army (LRA), led by Joseph Kony. 
Annie became dedicated to Invisible Children's mission after she watched their documentary, The Rough Cut, which told the stories of the thousands of Northern Ugandan children who were forced to commute from their homes to abandoned parks to avoid being kidnapped by the LRA. She became the president of her high school's Invisible Children club during her junior year and raised thousands of dollars for the organization over the next two years.  She continues her leadership for this cause at UC Davis.
To honor Annie's dedication and encourage her work, the Office of Undergraduate Education teamed up with the Campus Community Book Project committee to arrange for her to meet Pulitzer Prize-winning columnist Nicholas Kristof, co-author of Half the Sky. Annie's blog about the experience is reprinted here; you can see her original post on Tumblr. Read more about her experiences in Davis at http://citynittygritty.tumblr.com/
"WE NERDED OUT ABOUT ACTIVISM AND HUMAN RIGHTS:" READ ANNIE'S BLOG POST
Yesterday, I had the incredible opportunity to meet Nicholas Kristof, the author of "Half the Sky." He gave a talk at the Mondavi Center about his work and about how to enact social change. The talk was amazing, and it was great to take advantage of the opportunities that the Mondavi Center has to offer!
I met him earlier in the day, and we nerded out about activism and human rights. He told me about his work around the world, and I informed him about Invisible Children, a Ugandan based nonprofit organization that I work with. Because he is such an inspiration to me, I gave him a thank-you gift: a reed bracelet that was handmade by a woman in the Central African Republic. The bracelet represents our shared passion for advocating for human rights around the world.
See more from Annie at http://citynittygritty.tumblr.com/