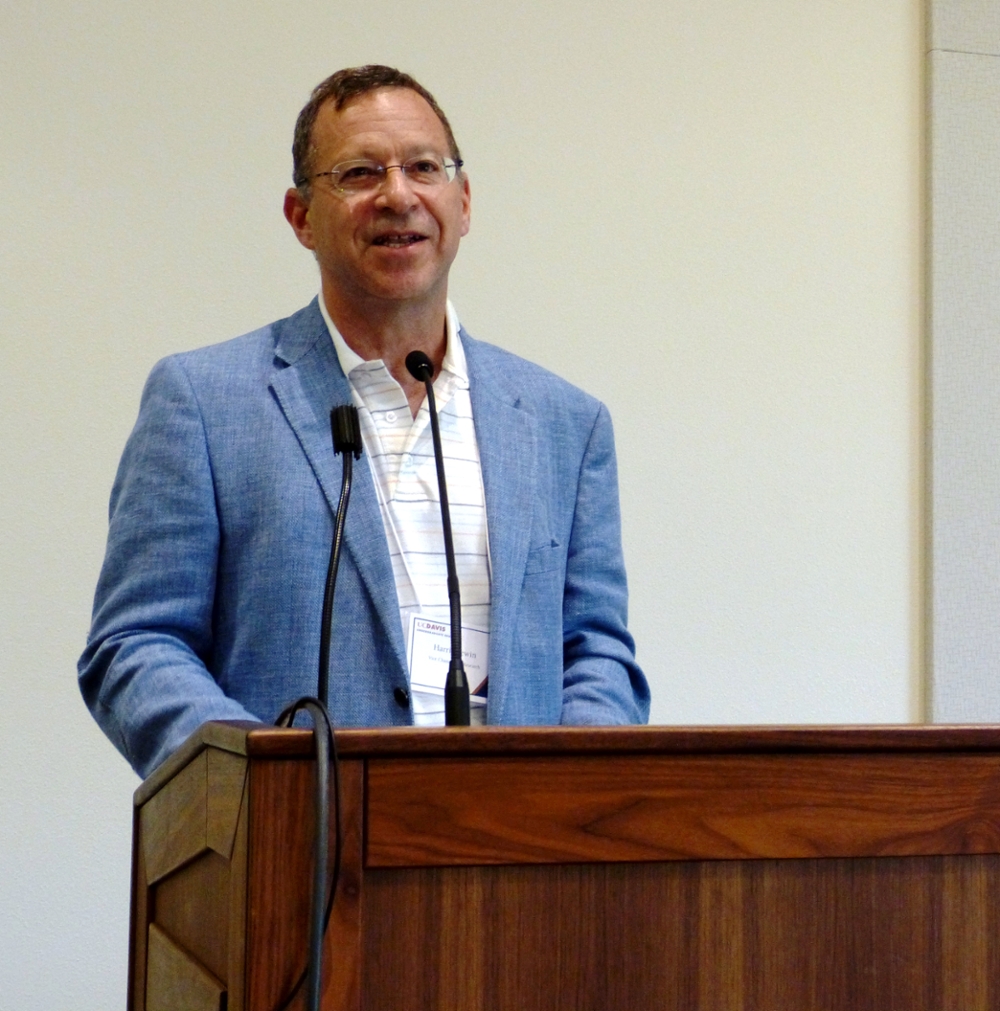 The 20th annual Chancellor's Awards for Excellence in Undergraduate Research and Mentoring Undergraduate Research were presented at a ceremony hosted by the Undergraduate Research Center on June 6.  Vice Chancellor for Research Harris Lewin acted as master of ceremonies, and Provost Ralph Hexter presented the awards.  Lewin, who received his Ph.D. in immunology from UC Davis in 1984, recalled his own introduction to research as an undergraduate: digitally palpating chickens at 4:30 a.m. to study eggshell accretion in different species.  
Instituted by the UC Office of the President in 1994, the awards are presented annually at each of the UC campuses.  At UC Davis, the awards are accompanied by the Simonton Prize, a $500 award endowed by Distinguished Professor Dean Keith Simonton.  Simonton, who studies genius and creativity, established the prize upon receiving the UC Davis Teaching Prize in 1994. 
Provost Hexter presented the awards to two faculty members and two students, and introduced three students who merited honorable mention.
Excellence in Mentoring Undergraduate Research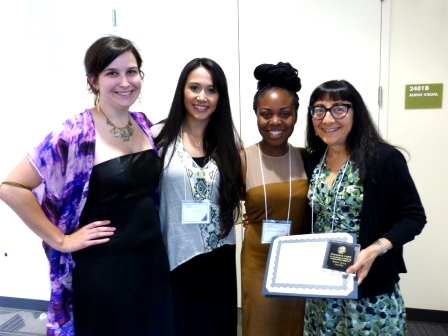 Susan Avila, Professor of Design, is an artist and designer who uses textiles to enhance perception of contemporary culture.  While Avila has exhibited her work around the globe, on campus she may be best known as the faculty advisor for the annual Picnic Day Fashion Show.  Under Avila's guidance, the show has grown from a small event on the grass in front of Walker Hall to a sold out crowd in Freeborn Hall.  Design Department Chair Tim McNeil noted that the award was especially fitting this year – Avila's last year as advisor for the popular show.  Avila's students praised her emphasis on the importance of bringing critical thinking and research to creative work.  Avila expressed gratitude to her own undergraduate mentor – a relationship that continues to this day.  She also praised the Undergraduate Research Center for its outreach to the Department of Design.  "Design is the future of the world," said Avila.  "We are changing the world through design thinking."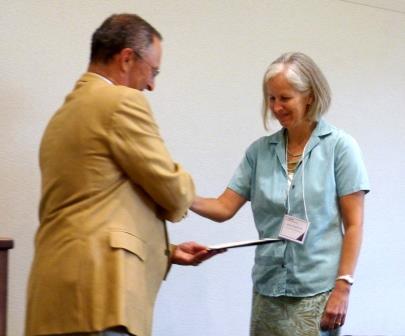 JoAnne Engebrecht, Professor of Molecular & Cellular Biology, studies meiosis and checkpoint function using the nematode C. elegans as a model to research the causes of human diseases such as Down, Turner and Klinefelter's Syndromes.  Her lab is typically home to five or six undergraduate researchers. Her students praise her generosity and openness to questions.  Carly Stevens, a former student now attending the UC Davis School of Veterinary Medicine, said that Engebrecht's experiment-based approach to teaching "prompted attentiveness to how we know what we know…. It is impossible to leave her class without some appreciation for the importance of research."  Professor Engebrecht said that having undergraduates in the lab give her freedom to try new things. "The most joy in my career is when I see undergraduates' eyes light up with respect to research – when undergraduates decide that research is the coolest thing in the world." 
Excellence in Undergraduate Research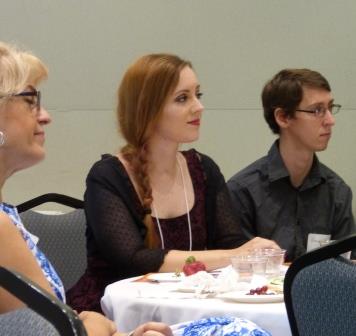 Laurel Carney, winner of the Chancellor's Award for Excellence in Undergraduate Research
Laurel Carney, major in English, sponsored by Professor Fran Dolan.  Carney's project, "Plead the Belly: Stories of Crime, Death, and Pregnancy in Early Modern England and Today," blends historical research, literary criticism, and creative writing on the practice of "pleading the belly," in which an accused woman could defer or avoid execution by claiming to be pregnant. Carney's research in the British Library in London, UK was supported by a Provost's Undergraduate Fellowship. "Ms. Carney is creating new knowledge about the early modern period through historical research; she is reading historians' and novelists' narratives of the early modern past with a literary critic's critical acumen, thinking about how others tell the story of early modern England; and she is writing her own stories about the past," said Professor Dolan.  Such praise is especially meaningful to Carney, who transferred to UC Davis in 2012 after facing a debilitating medical condition in high school and community college. Carney spoke poignantly and powerfully about the value of mentorship, the joy of research, and the significance of receiving the Chancellor's Award.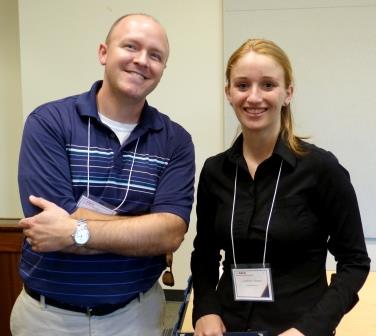 Caroline Vissers, major in Animal Science, sponsored by Kent Leach, Associate Professor of Biomedical Engineering.  Vissers started her animal science career as stallion manager in the horse barn – a job she earthily compared with Lewin's chicken palpations, on a large-animal scale.  And while "The [University] Honors Program forced me to start research earlier than I was comfortable with," she completed an honors thesis on proteins in pig intestinal endothelial cells after infection with E. coli – highly translational work which made her interested in human research. Selection as a Beckman Scholar allowed Vissers to pursue a research project in Dr. Kent Leach's biomedical engineering lab, focused on the design of biodegradable implants for bone tissue engineering.  Vissers praised UC Davis for its support for undergraduate research and the number of opportunities it offers. "Non-engineers don't often get to work in engineering labs," she noted, expressing gratitude to Dr. Leach.  "Getting to know faculty and mentors is a lifelong relationship."  
See our Facebook album for more photos.
Contact:  Sharon Knox  - scknox@ucdavis.edu