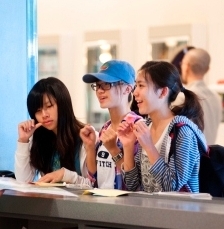 By Sharon Knox
Maggie Wang comes to UC Davis from Harbin, the "Ice City" in northeastern China known for larger-than-life ice sculptures.  Muchan Gao is an urbane economics major from Beijing.  Sarah Shi and Mandy Zhang, who study food sciences and international relations, hail from the Zhoushan Islands in the East China Sea.   
This diverse group of incoming freshmen have come to UC Davis to get a quality education, and the campus is taking an innovative approach to ensuring their success by offering new programs and enhanced courses.  
In turn, they bring to campus an inspiring range of motivations, and a strong desire to succeed. Maggie's curiosity is ignited by reading about scientific discoveries ranging from new species to emergent technologies.   In her home province, students' majors are identified in correlation with their performance on the university entrance examination, and she wants to study a variety of subjects before committing to a profession.
Muchan's father often seeks her opinion on business matters.  In turn, he encouraged her to study in the United States, endorsing UC Davis based on his admiration for faculty members he encountered in an online MBA program.
Sarah and Mandy are gregarious friends who met via the internet after being admitted to UC Davis.  They came to the U.S. eager to learn a new model of thinking. "Americans like to communicate, discuss and argue," Sarah says.  "In China students spend most of their time listening."  She also feels American professors are more accepting of students' ideas – an excellent fit for students eager to engage.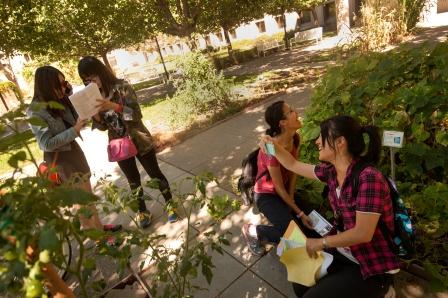 A New Program
All four students are participating in Summer Start, launched this year by the Office of Undergraduate Education in partnership with the Center for International Education at UC Davis Extension.  Designed to prepare international freshmen for successful Aggie careers, the six-week program incorporates coursework in language and culture, campus orientation, and social events. 
Summer Start is the first program to be offered under a new campus approach to fostering international student success developed in anticipation of significant growth of this population.  "The internationalization of our campus presents an opportunity for us to build on our current ESL program and create new collaborations and classroom strategies that will benefit of all of our students," said Interim Vice Provost Carolyn de la Peña, who worked with a team of experienced faculty and staff to develop the new approach. 
Under the new structure, ESL writing instruction has moved to the University Writing Program.  The Linguistics department will continue to deliver instruction in developing speaking and listening skills for the academic environment, and is pioneering collaborations with other departments to offer enhanced general education courses beginning this fall.  For example, DRA 5 will encourage students to take to the stage by offering enhanced support from TAs trained in ESL pedagogy. The program is administered centrally through Undergraduate Education.
Provost Ralph Hexter expressed his support for the new approach.  "We are making investments across the campus to improve the quality of the student experience," he said.   "This innovative approach to ESL delivery engages the campus broadly, and will better prepare our students to participate in the classroom and in campus life.  I'm delighted to welcome our first cohort of Summer Start students to campus."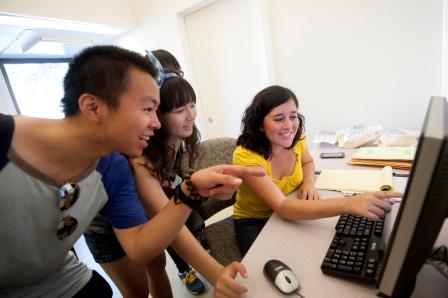 Mutual learning
So far, the pilot program has been a success.  "Summer Start brings us together to learn where to eat, play, and rest, where to get help, what services there are, and about important policies.  They really think about us," Muchan said.  "When we visited the Student Academic Success Center, the staff spoke clearly, were friendly, and encouraged us to ask questions."
Maggie appreciates the program's well-planned curriculum.  Sarah adds that it's helpful to learn your way around campus — especially as a food science major, whose department is centered in the Robert Mondavi Institute for Wine and Food Science at the campus's south entry. 
Summer Start also addresses the important topic of plagiarism, one that many do not realize is a culturally relative concept.  "In China, our high school teachers encouraged the use of famous words with or without attribution as a way of showing that we were relying on expertise," Maggie said.  
Achieving a level of English proficiency and comfort that will allow students to participate in class is a key aim of Summer Start.  "When you say, 'It's sunny outside, isn't it?' students don't know whether to answer yes or no, because you say something is one way, and then ask if it's not that way," said Muchan.    
Why does English use such a strange construction?  Pondering this seemingly insignificant expression shows how in conversing with international students about language, education, and culture, all of us gain the opportunity to see how a different perspective shines light on things many normally don't notice, or take for granted.  With the internationalization of our campus, we can not only begin to learn about a world most of us are unfamiliar with (check out the ice sculptures in Harbin); we also gain a new lens through which to appreciate and question our cultures within the United States.
Please direct any questions about this article to Sharon Knox, Office of Undergraduate Education