By Hemali Patel
It's 94 degrees in Davis on a Wednesday afternoon. You're chilling on the hammock, trees blocking the sunlight out of your face, while you're planning your "weekend" since you finished classes early in the week.
Summer Session isn't as hard as everyone makes it seem. You might be taking harder courses in a short span of time, but there are so many other opportunities in Davis that make those 6 or 8 weeks worthwhile. Having spent the past two summers in and out of Davis, I know that it was the right choice to take summer classes and here's why:
Classes Available
Depending on your major, it might be safe to save your hardest classes for summer session. Take the toughest class or add on a GE, so you can focus solely on those classes. Always make sure to see which classes are available over the summer. Maybe you want to take Tax Accounting (a course only available in the summer) or Drugs in Society. Do some research and who knows what courses might spark your interest.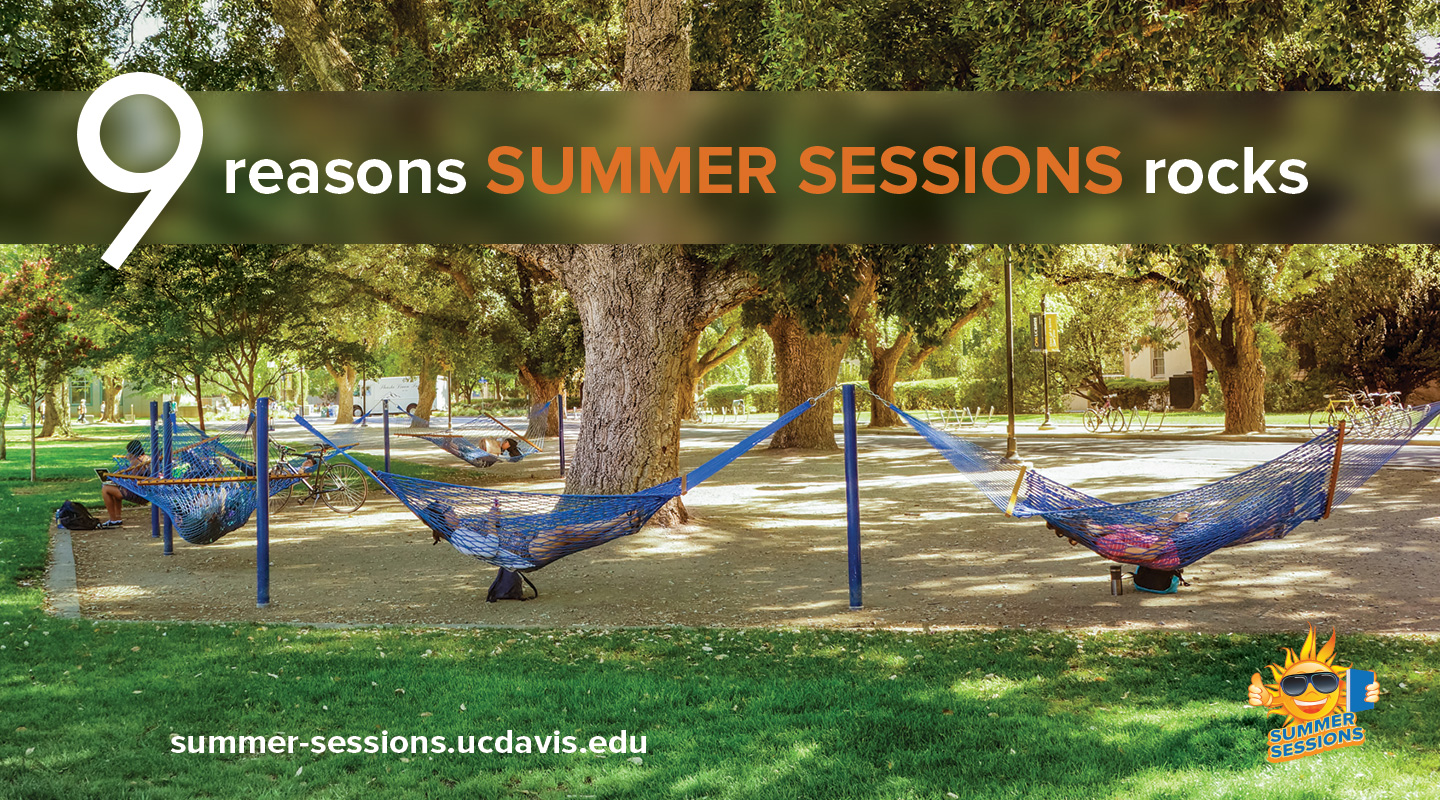 The Library
The best part: YOU CAN FINALLY FIND A SEAT IN THE LIBRARY WITH AN OUTLET. It's also nice and cool inside, with the air conditioning running, so it feels amazing to sit and study in peace, away from the harmful rays of the blazing afternoon sun. Find a new study space so you don't keep running into friends and claim that table for the next 6-8 weeks.
Downtown Davis
Not only is Downtown Davis less crowded, but there's also plenty of parking. Summer in Davis has always been the best time to explore and try new places. Is there a new restaurant that just opened that you want to check out? A new cafe? In the Summer 2016 I spent my entire summer in Davis, finding new places to relax and study rather than slaving away at the library. The new atmosphere and the smaller workload made it easier for me to try new places too.
Traveling
If every weekend is a four-day weekend, then why not plan a few trips. Make a few plans or have a spontaneous road trip down to San Francisco, Napa, or even L.A. and San Diego. Get your homework and reading done during the week and then off you go. Even if you don't have a car, take a few hours traveling on Amtrak and do work at the same time.
The ARC
Finding an empty squat rack during the regular school year was and will always be pain in the butt (literally). During the summer, less students come to the gym, so more machines and space are available. This is the perfect time to work out and get some daily/weekly exercise in between classes. And if you plan your gym times accordingly, then you can completely avoid  groups of incoming freshmen during their orientation.
The Quad
Chilling in the quad isn't something new during the school year and feels the same during the summer. Have a picnic during the weekend or take a quick nap. If you enjoy laying on the grass and saying hi to the squirrels, then this would be a relaxing time to do so.
Rec Pool
It's summertime and that means pool parties. Take a break from studying/ working and go hang out at the pool with a few friends. Have a BBQ and then sit in the pool. It's a great way to swim around and relax without having to worry about being too loud or annoying to your neighbors. Who knows? Maybe more of your friends are there too.
Davis Green Belt/Biking
If you love biking and exploring, then this would be the best time to bike around the city of Davis. Not only are there less bikers, but the breeze from biking feels great against the warmth of the sun. Bike along the Arboretum and find the horse field or bike along the Davis Green Belt. The greenery and beautiful landscape is a perfect place for a ride or a photoshoot. If you want some nice pictures, then have a photoshoot with the sunflowers.
Grad School Standardized Tests
Last, but not least, grad school tests. Unless you decided to take classes for your LSAT, MCAT, GRE, etc., then it might be beneficial for you to stay in Davis and study rather than studying from home. Most students who take their exams during late summer, spend months in advance studying. Being able to sit in a quiet cafe or apartment study lounge every day is much better than forcing yourself to study in your bed at home where you can be lazy. Not only is it good for you, but you also encourage others to study with you, improving both of your study habits. It's a win-win
Staying for Summer Session doesn't seem as bad anymore when you stop to think about all the benefits. If you think it's the right decision for you then make sure to check registration times on Schedule Builder and register. Remember the deadline…