By Emily Meehan
Focusing the video camera is not as easy as it sounds when the subject is moving. And blocking sunlight from above from an actor's face, to match an earlier shot when the sun was dappled is not a walk in the park either. Those who have faced these challenges in filmmaking probably wished they had a wand they could wave to conjure up an experienced director for advice. However, most independent filmmakers learn these trade skills by improvising, and if they're lucky, from a class in directing and producing, such as the one offered at UC Davis by professor Sarah Pia Anderson.
On a recent Monday, 21 students were on the set of a short film they were producing for the coveted class many have been looking forward to since freshman year: Producing and Directing the Short Film. There was only an hour left in the schedule to finalize the climax scene of their film, and Professor Anderson stepped in to advise on camera focus and lighting.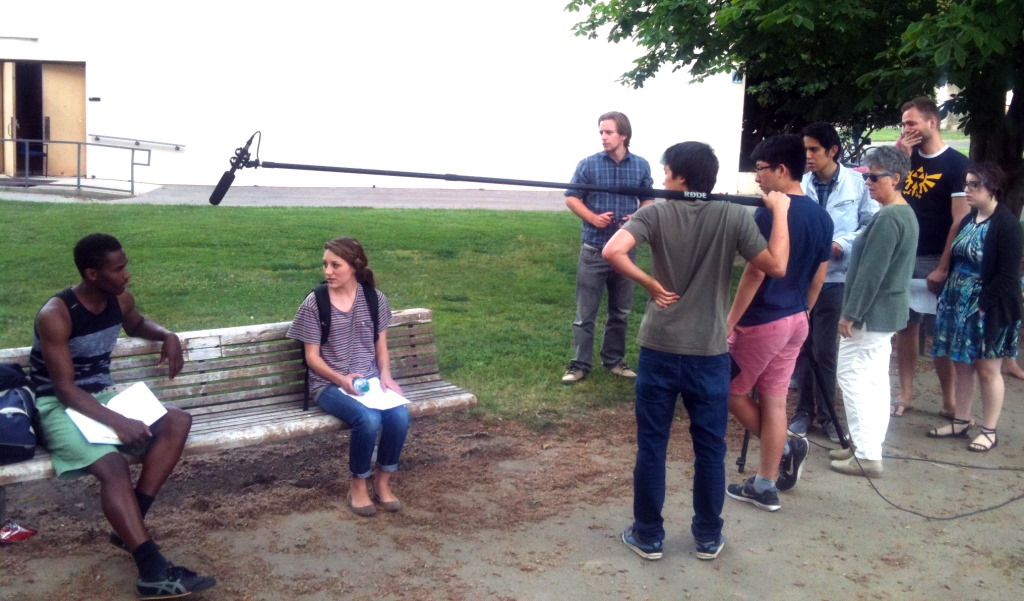 The first take of scene 3E went off without a hitch. "Let's keep it," said one of the student directors. "Do it one more time," said Professor Anderson. "Always get it at least twice so you have more to work with later."
Repetition is key to directing drama—every scene needs a master shot, plus multiple camera angles, which sometimes means doing 10, 20, and even more versions of the same exact scene. Filmmaking is not easy or glamorous when you're in the thick of it, but it can be extremely rewarding. This is the lesson many students have learned after five days of shooting with Professor Anderson. Having a professor on hand who recently directed television episodes of MIND GAMES for ABC, and CRISIS for NBC, helps the students to rationalize whatever fantasies they held about the profession, and understand how their skills and interests can fit into the reality of a career in filmmaking.
Steven Wade, a senior in film studies and one of the two students who was selected to direct the short film, which he also wrote, was accustomed to working on projects by himself before he started the class. "I've learned to relinquish responsibilities to other people," he says. "I'm glad I've been able to have this experience and trust other people, because in the real world, you have to, or your project won't come to fruition."
It's not clear how to structure a class in which students are all supposed to gain the experience of making a short film, but Professor Anderson has developed a curriculum that allows for every student to be involved in the three phases—pre-production, production, and post-production.
The first assignment required the students to adapt a short film script called "The Lunch Date" for the UC Davis campus. After the best script was selected, the students grouped together by their chosen roles on the crew or cast and worked as a team to shoot the script. Next, they will break off into groups of two to edit their own final versions of the footage, resulting in ten different final short films.
"I think when you have to work together as a team, it makes you get closer to people and make friends with them," says Isabel Fischer, a second year film studies major who handled the audio on the crew. "That was really nice for me, I'm glad I made other friends in film."
 "We don't aim to be perfect, but to give the students exposure," says Professor Anderson. "I'm there to hold the bar high with my knowledge, and act as a mentor, stepping in when necessary, but also empowering them. It's demanding work, but if they want to keep reaching, I'm there for them."