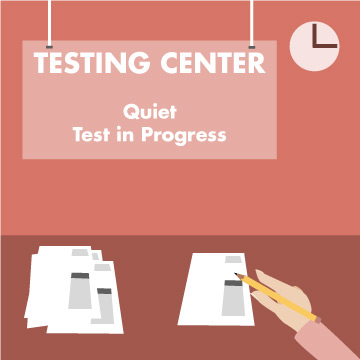 Undergraduate Education and the Student Disability Center (SDC) are collaborating on a limited pilot program to develop a testing center whose purpose is to provide a proctored exam environment for SDC students with medical-need accommodations such as extended time, separate locations, and test assistants.
The goals of the pilot program are to develop and assess methods for effective administration of the center, and to provide critical, centralized support for the courses with the highest numbers of student exam accommodations.   During the pilot phase, SDC and UE are working with instructors whose courses have the highest numbers of student exam accommodations to coordinate the administration of exam(s) for students enrolled in the course. 
We are soliciting feedback from the faculty and students participating throughout the pilot in order to assess the services provided, and we will continue to engage with the campus community to determine best practices to meet ongoing needs.
Exams scheduled as part of the pilot program are administered in the 227 Hunt Hall. 
For more information on the Testing Center pilot project, or to request assistance with this form, contact:
Regina Slaughter-Canegan
Program Coordinator
Phone: (530) 752-3247
Email: uesa@ucdavis.edu