In the weeks before a Presidential election, there is no more exciting place to be than Washington, DC. 
UC Davis senior Misbah Naseer recently came face-to-face with Democratic Senator and Vice Presidential hopeful Tim Kaine.  Naseer, a senior political science major participating in the Washington Program, attended the vice presidential debate with fellow students from the UC Washington Center. The group was credentialed as news media and had a chance to tour the entire debate setup and meet journalists and political figures immediately after the event.  
"Having the opportunity to watch the debate in person was incredible," Naseer enthused. "It was such an amazing experience to view firsthand the spin room, media room and debate hall. Definitely, the highlight of the night was being able to meet Vice Presidential candidate Tim Kaine!"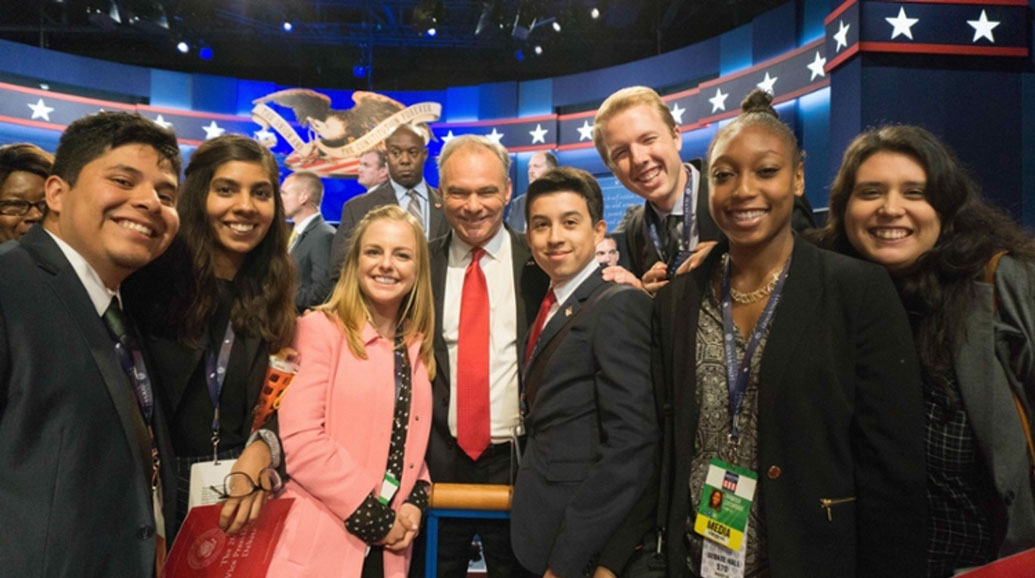 Election Fever
"Washington D.C. is clearly a town that lives and breathes politics," she says. "Politics, and more specifically the upcoming election, is often the number one choice for small talk-- a striking comparison to California. After each debate so far, I have either overheard or been involved in numerous conversations about the election. Here at UCDC, students can choose to either watch the debate in their room, at a bar or in the first floor conference room. It almost feels essential to watch the debate, in order to prepared for all the inevitable conversations the next day."
Naseer earned the coveted debate ticket by predicting who would be selected as a VP candidate during the summer. Although only two students predicted correctly, she said there wasn't a secret to her prediction: "Honestly, I just read a couple of articles discussing who each candidate might choose, and noticed that there was a consensus about Kaine and Pence from most media outlets." 
A Passion for Women's Empowerment
Despite her humble reply, Naseer clearly has the research and analytical chops to succeed in the nation's capital. She puts those skills toward her passion for women's empowerment at her internship with the Development and Engagement team at Vital Voices Global Partnership.  In addition to coordinating and planning events for Vital Voices, she assists with the development of the organization's donor database by researching foundations and presenting potential donor information to senior level management.
"Interning in Washington D.C. has definitely impacted my future plans," she says. "It is such a great experience to be able to intern in D.C., as there are so many great opportunities to make connections in your field. Interning at Vital Voices Global Partnership has only strengthened my passion for a career focused on women's empowerment."  
As a parting question, I asked for her thoughts on why neither candidate chose a woman as his/her running mate. "I think both candidates made strategic choices when it came to selecting their running mates, each choosing candidates that appealed to parts of the electorate they need help reaching out to." 
UC Davis sends 20 students from all majors to Washington, DC each quarter. For more information, or to apply, visit http://washingtonprogram.ucdavis.edu/
-Sharon Knox