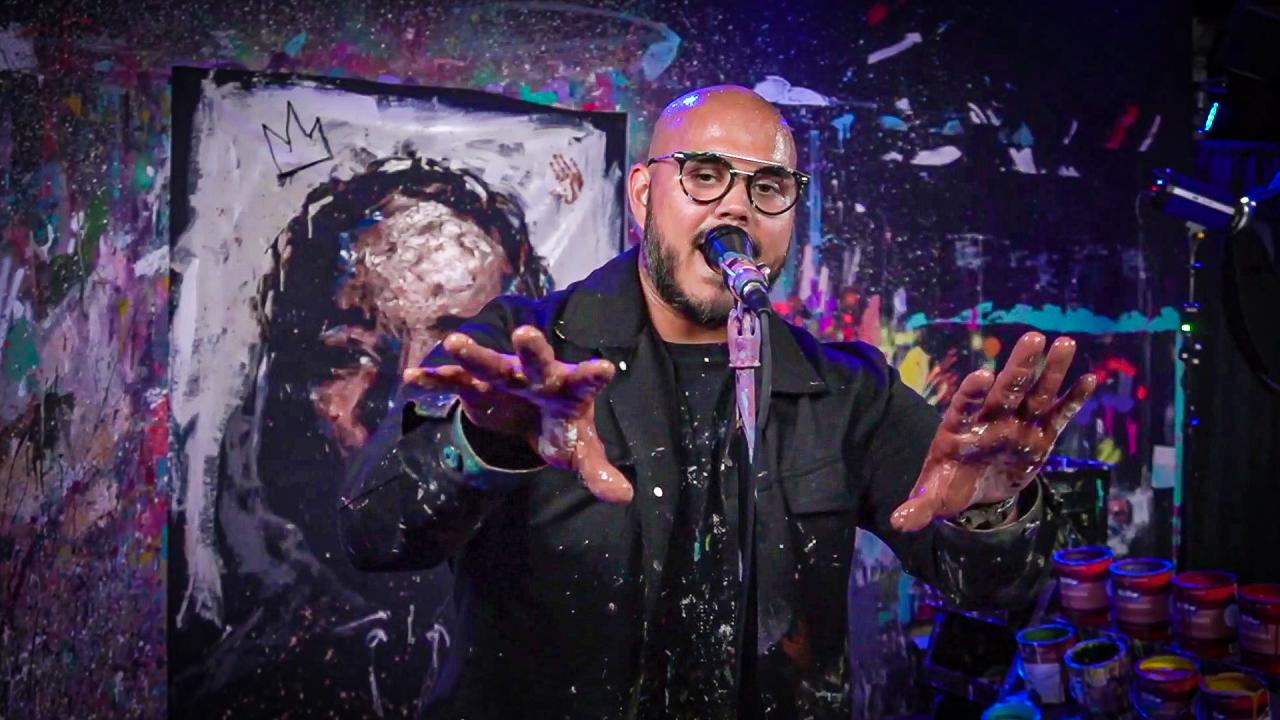 Sacramento Artist Performs for Students in Transformative Justice Studies
Leadership from Oak Ridge Elementary and Aggie Square joined the Quarter at Aggie Square's Transformative Justice Studies students and faculty for a conversation with Sacramentan David Garibaldi about arts, education, and community.
"This past summer, we saw our world creating images that reflected how we felt, saying what we had no words for," Garibaldi said. "Art has always been a voice for the unsaid."
Internationally known for his signature blend of speed-painting iconic images, hip-hop dance, and inspirational speaking, Garibaldi has performed at the Obama White House, NFL and NBA halftimes, and the Rock & Roll Hall of Fame; he was a 2012 finalist on "America's Got Talent," and recently accompanied megaband KISS on their "End of the Road" world tour.
With performances on hiatus during the pandemic, Garibaldi has been focusing on advancing the arts online through teaching and speaking. Broadcasting from his Broadway studio, Garibaldi's appearance at Aggie Square brought together the city's vibrant art culture with education and community-building: a potent combination that has been challenging the thinking of students in the Quarter at Aggie Square's inaugural Transformative Justice Studies, or TJS, cohort.
Arts education is key
Garibaldi opened with a story of the crucial importance of education in his own life. Always passionate about making art, he was nearly arrested while doing graffiti as a teen. His story of fleeing the police, and his understanding in that moment of what he stood to lose, cannot help but resonate in 2020, as increased attention is being paid to the systemic inequities of growing up Black and brown in the United States.     
Soon after that incident, a vice principal at Sheldon High School in Sacramento introduced him to art teacher Shawn Sullivan who looked at his sketchbook and suggested he consider pursuing art as a career. It was the first time he'd been offered that possibility. Garibaldi dove into animation classes, but struggled with other subjects and, after high school, went out on his own to make a living as an artist. It wasn't easy at first: while building his early career, he would lose his apartment, his car and his day job.
A decade after his near-arrest, his signature large-scale paintings began doing well at auction. After an initial taste of success, Garibaldi felt a strong motivation to give back to society. "I set a crazy goal when I was 25 years old to raise a million dollars for charity by the time I turned 30," he said. "We made that goal, and since then we've raised over six million for various charities," many related to arts and education. In a regular year, Garibaldi will do more than 100 performances, almost always connected with giving.
Multiplying creators and inspiration
The future of art for K-12 students, Garibaldi emphasized, is in recognizing the arts, media and entertainment as a career path — especially in California, where the industry is huge: think of Pixar, Dreamworks, Disney. With Sullivan he developed CreatorX, a free boot camp offered each summer to prepare high school students for careers in the arts. (Sullivan, a first-generation UC Davis graduate, had a studio art career before deciding he wanted to dedicate his talents to teaching art in the Sacramento public schools.)
Daniel Rolleri, Principal at Oak Ridge Elementary — the partner school for the TJS cohort internships this quarter — asked how someone in his position could find sustainable ways to exposing students to art without funding. Rolleri is credited with turning Oak Ridge around, in part through building community partnerships such as the one with TJS. Garibaldi encouraged him to connect with arts organizations in Sacramento, from the Crocker Art Museum to Sol Collective, and people like Zayn Silmi of The People of Sacramento — who have programs, grants or networks to support art education. "Show your own good will," he said. "Make yourself known."
Originally published in Aggie Square News
Tags